What package you would give to your products?
A. We can provide the personal and customer's stamp on your products, such as your company name and other special requirement.
B. Anti-static bag for flex cables, small parts.
C. Bubble bag for protect LCDs, touch displays. Also fasten LCD with staple, avoid collision and flex cable broken.
D. Cardboard box / paper box, packing one by one or 10pcs together.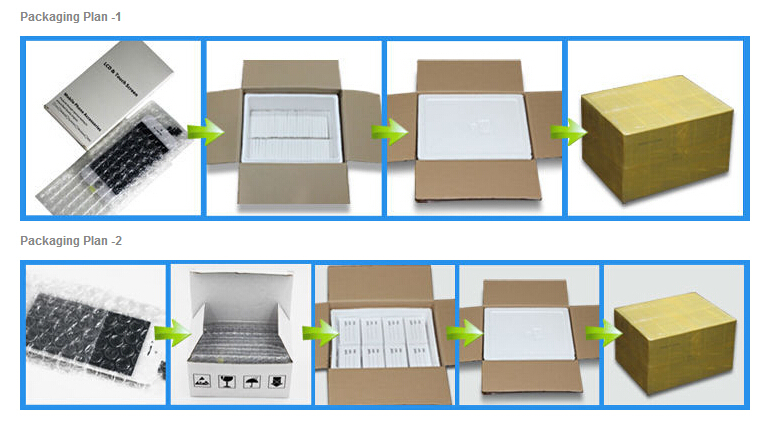 How about the warranty period of the product?
Our professional QC team will test all the goods one by one before shipment, we offer 12 months warranty for our products.
How long would I wait for my out of stock products?
The out of stock products is decided by market supply, we have own special sourcing department to help search some lack of stocks and will keep your post.
What payment methods you could offer?
T/T, PAYPAL, MoneyGram and West Union…
What's the payment process?
We need to get the payment first then start preparing the goods.
How can I apply the refund?
You can apply the refund with a detail list, and then we can deal with it quickly.
How long would I wait for my refund?
Just 3~5 working days
4. About Logistics
What logistics companies you usually cooperate with?
DHL/ FedEx/UPS/TNT/EMS and others.
The calculation methods stated below are provided by the logistics companies that work with us. Basically, the freight is determined by the weight and size of the packages.
How long does it usually take to receive my package?
Economy shipping offers customers a lower cost option (5-7 business days depending upon global location). Shipping to remote destinations may require more time.
Actual Weight & Size Weight
Usually almost all of the logistics companies such as FedEx, UPS and DHL calculate the freight fee according to both the actual weight and size of the packages. They will charge the fee based the weight or size depending on which one is larger. For example, suppose there is a package whose actual weight is 0.3 KG, but the size weight is 0.4KG, then the freight fee will be charged on 0.4KG.
Additional fees
Please note that sometimes shipping to remote destinations requires more time and additional fees due to international logistics policies. This additional delivery fee is required by logistic companies and must be borne by the recipient.
In some other cases, there will also be VAT or other taxes, customs duties or fees levied by your destination country. Additional charges for taxes or customs clearance must be borne by the recipient; we have no control over these charges and cannot predict what they may be. Customs and taxation policies vary widely from country to country; you should contact your local customs office for further information. When customs clearance procedures are required, it can cause delays beyond our original delivery estimates.
How could I track my order and logistic information?
We will keep the shipping status for you.